Our Health and Wellness Therapy
About Us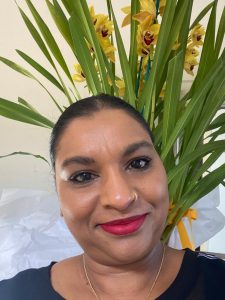 As a qualified Myotherapist with 20 Years Experience in reflexology and remedial therapy, I am here to help you feel better and move better.
I am driven to help each of my clients to stay active and live better on a day-to-day basis. Individual treatment plans can include a range of evidence-based treatment techniques such as deep tissue & sports therapy, Myofascial release, trigger point therapy, cupping, Lymphatic drainage & home exercise planning.
Jayendri Pillay
Ask a Question
Our Health & Wellness Expert will answer you shortly. 
Client Reviews
I tried Myotherapy for the first time at Cosmic Healing and I am converted!! The treatment was exceptional and my delightful therapist consulted with me regarding my areas of concern and then tailored a program to suit my body. I felt relaxed, calm and peaceful throughout the treatment whilst working on areas of my body that needs pain relief from ongoing joint tension and muscle discomfort. I truly believe its has helped me to stay on track towards my ongoing healing. I recommend Cosmic Healing to anyone seeking an alternative natural method of healing. - Prenisha Moodley
- Prenisha Moodley
Jayendri is an amazing massage therapist and such a beautiful person. Jayendri massaged me all throughout my (very long!) pregnancy, she just knew what areas to work on without me even telling her! She not only helped me with physical healing, but emotional well-being aswell during my pregnancy and post natally. She really does have magical hands and a warm heart. Jayendri is genuine and has a calming, reassuring, professional demeanour. Thank you Jayendri for all you do! - Mel. K
- Mel. K
One of the best treatments I've had! Jayendri offers an excellent service in a welcoming and enjoyable environment. Highly recommended. - Sujatha
- Sujatha